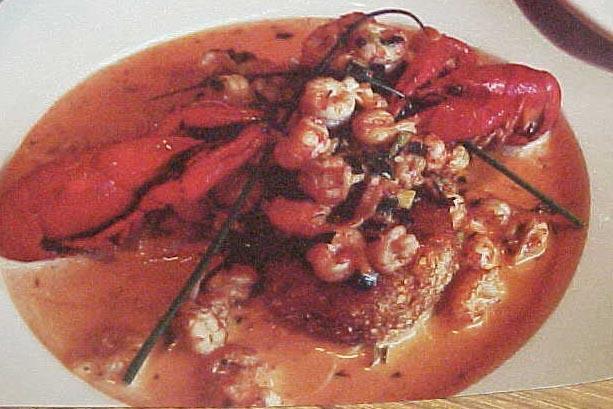 CAJUN
| Home | BBQ | Cajun | Low Country | Southern | Links | Feedback | Resources |
"First, you make a roux," is the standard opening line for many Louisiana recipes. There's no denying the French heritage in Louisiana cuisine, Cajun cuisine in particular. Because of the scarcity of many things in early Louisiana, the Cajun roux was made with oil and flour and a bisque made without cream, a far cry from the French version of butter, flour, and cream.
he French grillade, broiled meat, became beef steak cubes in a rich gravy and served over rice. Chickens were not eaten until past their laying times, thus the tenderizing gumbos and fricassees.
Like the poor Southerners of the nineteenth century, the Cajun diet depended on what was available -- cornbread, molasses, salted meat and beans, and greens in season. Only people living along the coast had seafood, and rice -- now a daily staple -- wasn't introduced until near the end of the nineteenth century. Foods like crawfish, and the popular seasoning mixture of onions, celery, and green peppers were not widely used until the twentieth century, but have fast become a tradition.
Chefs like Paul Prudhomme, John Folse, Justin Wilson, and Emeril Lagasse have certainly played a big part in bringing Louisiana cuisine to all of us through cookbooks, products, and television. Enjoy this wonderful cuisine, whether you're planning a Mardi Gras feast or just want to cook something a little different for your family. Try any of these favorite cookbooks and I GUARANTEE you will not be disappointed.


Cajun Catfish
4 Catfish fillets (4 oz. each
1 oz Wheat flakes cereal
1/4 ts Salt
1/4 ts Onion powder
1/4 ts Garlic powder
1/2 ts Cayenne pepper
1/2 ts Black pepper
1/2 ts White pepper
1/2 ts Thyme
1 tb Oil

Wash the fish fillets and pat dry.
In a bowl mix the ground wheat flakes and all the seasonings.
Pour the dry mixture onto a piece of foil or wax paper, and dip the
fillets into the seasoning, coating both sides. 3. In a heavy cast
iron fry pan heat the oil. Fry the fillets for 2
minutes on each side. Lay the fillets on a plate lined with a paper
towel, cover with another paper towel, and pat to remove excess oil.
Crawfish Jambalaya
1 1/2 c Water
1 1/4 c Long grain rice (raw)
1 c Onion, chopped fine
1 lb Crawfish tails
1 tb Flour
1/2 c Chopped bell pepper
1/2 c Chopped celery
1/2 c Chopped green onion tops
1/2 c Chopped parsley (2ts.flakes)
1/2 ts Black pepper
1/4 c Crawfish fat
1/4 ts Red pepper, or to taste
2 1/2 ts Salt
2 tb Salad oil

Brown flour in oil to a golden brown. Add onions.
Stir constantly until onions are almost cooked.
Add 1 1/2 cups cold water and simmer for 1/2 hr.
Add crawfish tails and fat.
Cook until crawfish turns pink.
Add abt. 2 cups of water and bring to a boil.
When water is rapidly boiling, add remainder of ingredients.
Stir to blend and cook on low heat covered for abt. 1/2 hr. or until rice is
tender.Five minutes before serving, use a 2 prong fork and fluff up jambalaya
so that rice will have a tendency to fall apart.
Oysters Rockefeller
1 Bunch spinach, washed
1 Bunch green onion tops
1 Parsley bunch leaves
1 Rib celery, minced
1/2 c Butter or margarine, melted
1 Juice of lemon
Rock salt
36 Oysters in shells

Using food processor, process spinach, onion tops and parsley until
fine. Mix with celery, melted butter and lemon juice.
Half fill 6 pie plates with rock salt Place 6 oysters on half shell in each plate;
cover each oyster with 1teaspoon vegetable mixture.
Place plates under broiler; cook until edges of oysters curl, then serve
immediately.
SHRIMP CREOLE
3 pounds peeled and deveined shrimp

1/2 cup butter or margarine

1/2 cup all-purpose flour

2 cups chopped onions

1 cup each chopped celery and chopped green peppers

1 tablespoon chopped garlic

3 cups shrimp or fish stock

1 can (15 ounces) tomato sauce

4 thin lemon slices

1 tablespoon brown sugar

1 tablespoon each thyme and basil

3 bay leaves

Salt and cayenne pepper to taste

1 cup each sliced green onions, including tops, and snipped fresh parsley

4 cups hot cooked rice
Sauté shrimp in butter in large skillet over medium-high heat 2 to 3 minutes; remove and set aside. Add flour to remaining butter in skillet; stir over medium heat until lightly browned. Stir in onions, celery, green peppers, and garlic; cook until they begin to turn transparent. Add stock, tomato sauce, lemon slices, sugar, thyme, basil, bay leaves, salt and cayenne; simmer about 10 minutes. Stir in green onions, parsley, and reserved shrimp; cook 5 minutes longer. Serve over hot rice. Makes eight servings.
Cajun Extras
Cookbooks
Sinkin Spells, Hot Flashes, Fits and Cravins

Picayune cookbook, original creole cooking first printing 1901
This Web Site Created by Rose Mutchler Copyright © 2004 [Southern Recipes]. All rights reserved.
Revised: 02/03/04.