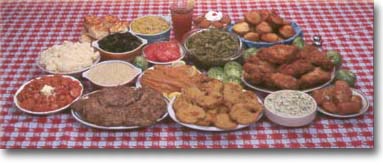 SOUTHERN
| Home | BBQ | Cajun | Low Country | Southern | Links | Feedback | Resources |

If we are what we eat, Southerners are French, English, Spanish, Indian and African.
Foods viewed as uniquely Southern - fried chicken, greens, macaroni and cheese, fritters - represent a melding of cultures. And, while we generally think of food as what we eat, it is also politics, history, anthropology and memory. So food south of the Mason-Dixon line was shaped by everything that is The South - European settlers, the Civil War and the slave trade hence the mix of the cuisine.

Sweet Tea
1 gallon boiling water
1to 1 1/2 c. sugar
4 family size tea bags
Mix water and sugar together in large container. Add tea bags, let steep 1 hour. Remove tea bags and serve over ice. Refrigerate remaining.
Fried Green Tomatoes

3 or 4 medium size green tomatoes, washed, cored, and sliced (do not peel)
1 to 2 cups corn meal and flour mixture1/2 tsp. salt 1/8 tsp. pepper
1 cup milk
one egg bacon grease to fry
Put bacon grease in cast iron skillet and heat over medium heat. Spread a thin layer of corn meal on a sheet of foil.
Beat the egg into the milk .Dip each tomato in the milk/egg mixture and then roll in the corn meal to give it a THIN layer of batter. Place the battered tomato slices in the pre-heated skillet. Brown one side, then turn to brown the other side .Serve hot



Roses Fried Chicken
1 broiler-fryer chicken cut into pieces
1 cup buttermilk
1 tbl. hot sauce
1/2 cup all-purpose flour
1/2 tsp. paprika
1 tsp. garlic powder
1 tsp. salt
1/2 tsp. pepper
vegetable oil to fry
Place chicken into bowl. Pour buttermilk and hot sauce over; marinate at least 1 hr. In another bowl, mix flour, salt and pepper. Remove chicken from buttermilk. Roll pieces in flour. Pour 1" of oil in skillet. Cook until one side is browned, then turn and brown other side, about 20 minutes total. Remove chicken and place on paper towels to drain.

Pecan Catfish Filets
1/2 cup yellow or white cornmeal
1/2 cup flour
1 1/2 teaspoons seasoned salt
1 teaspoon black pepper
1 teaspoon garlic powder
1/2 teaspoon cayenne pepper
1/2 teaspoon seafood seasoning, optional (Old Bay brand seafood seasoning is preferred)
4 to 6 (4-to 8-ounce) catfish filets
oil for deep frying (not olive)

Thoroughly mix cornmeal, flour, salt, pepper, garlic powder, cayenne and seafood seasoning in bowl. Dredge filets in mixture to coat completely. Heat 2 to 3 inches peanut oil in large skillet to about 375 degrees. Drop 2 filets at a time in hot oil. Fry fish until golden brown, 4 to 7 minutes, depending on thickness, or until cooked as desired. Drain on paper towels.

Buttermilk Biscuits
2 cups flour, such as White Lily, unsifted or
1 3/4 cups regular all-purpose flour
4 tsp. baking powder
1 Tbsp. sugar
1/2 tsp. baking soda
1/2 tsp. salt
1/4 cup shortening
3/4 cup + 2 Tbsp. buttermilk
Preheat oven to 450 degrees. Mix dry ingredients. With pastry blender or 2 knives, cut in shortening until crumbly. Make well in center of flour; pour in all buttermilk, tossing gently with fork until flour is just moistened. Do not over mix. Dough should be very sticky. Turn dough out onto floured surface; with floured hands, knead very lightly once or twice. Pat dough out evenly into 3/4" thick round. Cut out biscuits and place on ungreased baking sheet. Gather dough scraps and repeat, cut out biscuits. Bake 12 minutes or until golden brown.

PAULA DEEN'S COLLARD GREENS
(From "The Lady & Sons Savannah Country Cookbook")
1/2 pound smoked meat (ham hocks, smoked turkey wings or smoked neck bones)
1 tablespoon House Seasoning
1 tablespoon seasoned salt
1 tablespoon Texas Pete hot sauce
1 large bunch of collards
8 tablespoons (1 stick) butter
In a large pot, bring 3 quarts of water to a boil and add smoked meat, House Seasoning, seasoned salt and hot sauce. Reduce heat to medium and cook for 1 hour. In the meantime, wash collards greens thoroughly. Remove the thick stem that runs down the center of the greens by holding the leaf in your left hand and stripping the leaf down with your right hand (the tender young leaves in the heart of the collards don't need to be stripped). Stack 6 to 8 stripped leaves on top of each other, roll up, and slice into 1/2- to 1-inch thick slices. Place greens in pot with cooked smoked meat. Add butter after greens. Cook for 45 to 60 minutes, stirring occasionally. When done, taste and adjust seasoning.

Some Southern Delights
Grand Ole Opry in Nashville Tenn.
Southern Cookbooks
This Web Site Created by Rose Mutchler Copyright © 2004 [Southern Recipes]. All rights reserved.
Revised: 02/03/04.